Google tries to read your mind and finish your sentences as you type into the search bar.
As the letters you type appear, quantum computers using leading edge AI and heuristic algorithms examine them and begin presenting you with a range of options of words and phrases that the Google machine thinks best relates to your intentions. It tries to 'read your mind' in a practical and obvious way.
For the most part this is a brilliant service. So good in fact, that it often seems like Google is trying to read your mind!
Sometimes however, Google gets it wrong.
Syncrony.com on the Web Since 1999
Take our company Syncrony for an example. We are a web development and software house, located in Johannesburg South Africa. We have been in the online software business since 1999. Initially as Syncrony Internet Services and more recently as Syncrony Digital embracing the concept of a modern digital agency. In any case, the domain syncrony.com has been visible on the web for almost 20-years. Our first website is captured (sadly minus images) on TheWayBackMachine as early as October 2000.
In terms of web search and SEO (Search Engine Optimization), this means that we have substantial online credibility, with a significant online footprint. Our offices are located in Sandton Johannesburg, the core business hub in Sub-Saharan Africa. Also, since our web team has been building websites since 1999, we have thousands of backlinks, which are the core pillar of visibility in Google searches.
GMB (Google My Business)
We often host customers at our premises and to make finding us easier, we have always had a prominent map page with directions on our website syncrony.com. When Google My Business became available we also listed our business and address details there, keeping our GMB details updated from time-to-time.
'Spelling, My Dear…'

As Mrs Rothbard my old English teacher used to say while roiling my ear between her nicotine stained fingers, 'Is the mark of an educated mind'.
Which brings us to the core of our problem.
Our company name is Syncrony (minus the 'h') and yes we know it's spelled incorrectly. Its not really an English word and we are aware that the real word, correctly spelled is synchrony, but it's our name and we have no intention of changing it.
Our Problem
Sometime towards the end of October 2015, Google implemented an algorithm called RankBrain to better serve users needs. RankBrain's work was to interpret words typed into the search bar and to process these words or letters as they are typed by based on various factors such as:
the searchers geographic location
content freshness
domain reputation and authority
related topics and content depth
Recently our SEO specialist noticed that a search for Syncrony by someone looking for directions to our offices, produced a worrying result: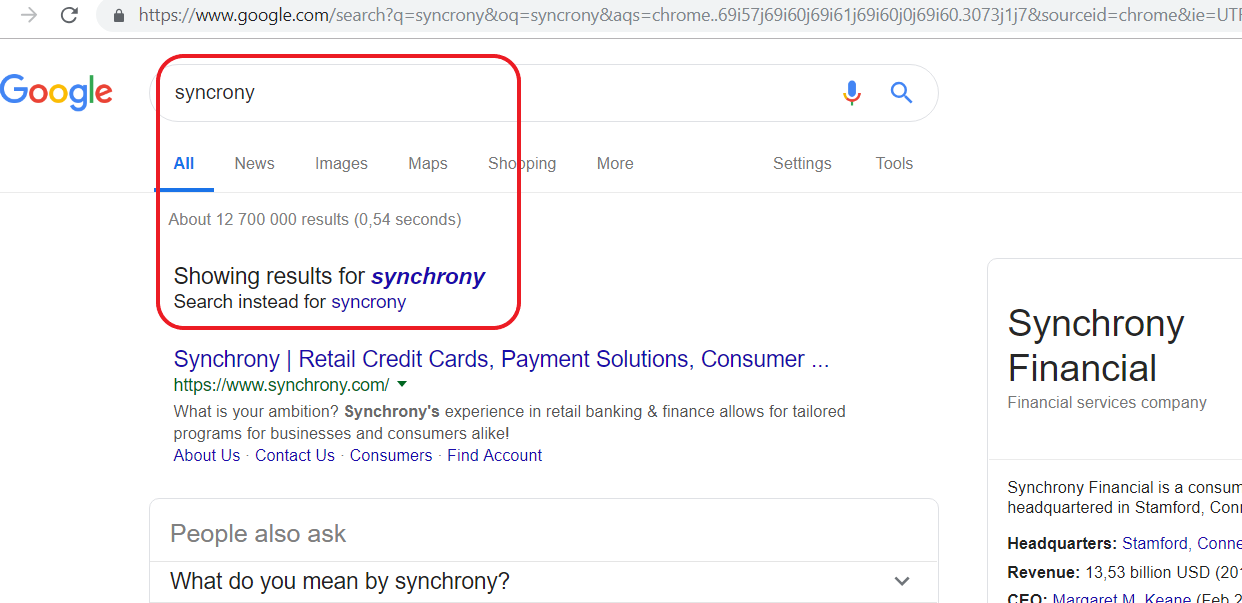 Google's Incorrect spelling suggestion
What seems to be happening is that RankBrain is allowing its spell checking function to override the geolocation lookup. Which would determine that Syncrony is a valid spelling for a popular website and GMB listing in close proximity to the searcher's location.
The question is, is it possible to fix this kind of error?
Maybe. We are trying a few experiments and will update this post as we find out more.